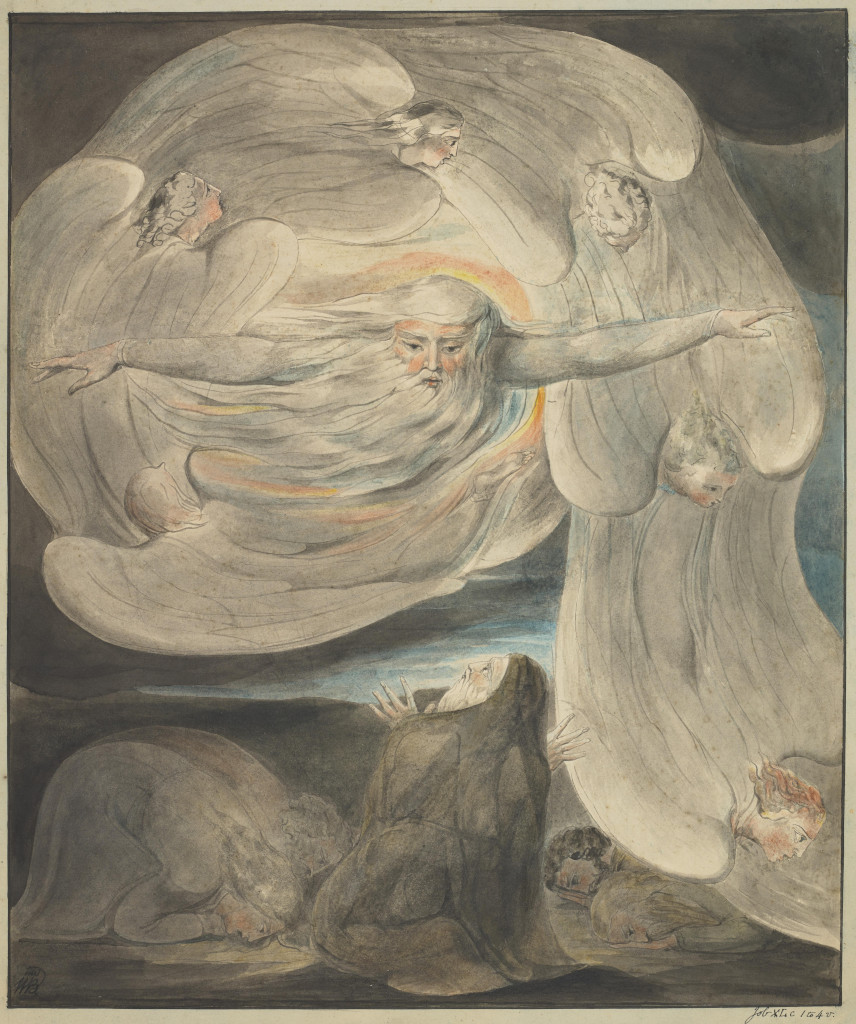 God Answering Job from Whirlwind
Watercolor Painting
Blake himself had undergone a confrontation with his darker self just as Job had. He had experience the darkness and despair, doubt and loss of confidence in his vision of truth. He was given a new vision of the Human Form Divine which confirmed the immediacy of his experience of God as Christ. He transposed his own experience to the account of Job's confrontation with God when he appeared in the

whirlwind

.
Therefore, illustrating Job's direct encounter with the all-encompassing God, he made an image of God with arms outstretched in a gesture of inclusiveness and protectiveness, emulating the position of Jesus on the cross. The figure of the vision of God vouchsafed to Job and to Blake was to replace each other vision they had encountered. It was an image of the God of Love and Forgiveness, not to be comprehended by moral doctrine, intellect or the wisdom of the world.
Six angels or Eyes of God accompany the central Seventh who evolves from earlier revelations as humanity evolves when his perception increases.
The vision was seen and the Voice heard by Job but not by his wife and accusers. He was transformed by experiencing the power of the whirlwind and the incomprehensible mind of a God not made by man.
Milton, Plate 32 [35], (E 131)          
"And Milton oft sat up on the Couch of Death & oft conversed
In vision & dream beatific with the Seven Angels of the Presence

I have turned my back upon these Heavens builded on cruelty
My Spectre still wandering thro' them follows my Emanation
He hunts her footsteps thro' the snow & the wintry hail & rain   
The idiot Reasoner laughs at the Man of Imagination
And from laughter proceeds to murder by undervaluing calumny

Then Hillel who is Lucifer replied over the Couch of Death
And thus the Seven Angels instructed him & thus they converse.

We are not Individuals but States: Combinations of Individuals   
We were Angels of the Divine Presence: & were Druids in Annandale
Compelld to combine into Form by Satan, the Spectre of Albion,
Who made himself a God &, destroyed the Human Form Divine.
But the Divine Humanity & Mercy gave us a Human     [Hebrew text]
     Form                                                                             as multitudes
Because we were combind in Freedom & holy                 Vox Populi 
     Brotherhood"

Letters, To William Hayley, 23 October 1804, (E 756) 
"I was a slave bound in a mill among beasts and devils; these
beasts and these devils are now, together with myself, become
children of light and liberty, and my feet and my wife's feet are
free from fetters. O lovely Felpham, parent of Immortal
Friendship, to thee I am eternally indebted for my three years'
rest from perturbation and the strength I now enjoy.  Suddenly,
on the day after visiting the Truchsessian Gallery of pictures, I
was again enlightened with the light I enjoyed in my youth, and
which has for exactly twenty years been closed from me as by a
door and by window-shutters.
...
for I am really drunk
with intellectual vision whenever I take a pencil or graver into
my hand, even as I used to be in my youth, and as I have not been
for twenty dark, but very profitable years.  I thank God that I
courageously pursued my course through darkness."
Everlasting Gospel, (E 522)
"Twas dark deceit to Earn my bread      
Twas Covet or twas Custom or
Some trifle not worth caring for    
That they may call a shame & Sin    
Loves Temple that God dwelleth in   
And hide in secret hidden Shrine      
The Naked Human form divine
And render that a Lawless thing
On which the Soul Expands its wing
But this O Lord this was my Sin
When first I let these Devils in      
In dark pretence to Chastity
Blaspheming Love blaspheming thee
Thence Rose Secret Adulteries
And thence did Covet also rise
My Sin thou hast forgiven me        
Canst thou forgive my Blasphemy
Canst thou return to this dark Hell
And in my burning bosom dwell
And canst thou Die that I may live
And canst thou Pity & forgive"
Auguries of Innocence, (E 492)
"Every Night & every Morn
Some to Misery are Born 
Every Morn & every Night
Some are Born to sweet delight
Some are Born to sweet delight
Some are Born to Endless Night
We are led to Believe a Lie 
When we see not Thro the Eye        
Which was Born in a Night to perish in a Night
When the Soul Slept in Beams of Light
God Appears & God is Light
To those poor Souls who dwell in Night 
But does a Human Form Display
To those who Dwell in Realms of day"
Job 40
[1] Moreover the LORD answered Job, and said,
[2] Shall he that contendeth with the Almighty instruct him? he that reproveth God, let him answer it.
[3] Then Job answered the LORD, and said,
[4] Behold, I am vile; what shall I answer thee? I will lay mine hand upon my mouth.
[5] Once have I spoken; but I will not answer: yea, twice; but I will proceed no further.
[6] Then answered the LORD unto Job out of the whirlwind, and said,
[7] Gird up thy loins now like a man: I will demand of thee, and declare thou unto me.
[8] Wilt thou also disannul my judgment? wilt thou condemn me, that thou mayest be righteous?
[9] Hast thou an arm like God? or canst thou thunder with a voice like him?
[10] Deck thyself now with majesty and excellency; and array thyself with glory and beauty.
[11] Cast abroad the rage of thy wrath: and behold every one that is proud, and abase him.
[12] Look on every one that is proud, and bring him low; and tread down the wicked in their place.
[13] Hide them in the dust together; and bind their faces in secret.
[14] Then will I also confess unto thee that thine own right hand can save thee.
[1] Then Job answered the LORD, and said,
[2] I know that thou canst do every thing, and that no thought can be withholden from thee.
[3] Who is he that hideth counsel without knowledge? therefore have I uttered that I understood not; things too wonderful for me, which I knew not.
[4] Hear, I beseech thee, and I will speak: I will demand of thee, and declare thou unto me.
[5] I have heard of thee by the hearing of the ear: but now mine eye seeth thee.
[6] Wherefore I abhor myself, and repent in dust and ashes.

[3] All things were made by him; and without him was not any thing made that was made.
[4] In him was life; and the life was the light of men.
[5] And the light shineth in darkness; and the darkness comprehended it not.