Images are from illustrations to Hayley's Ballads, Gray's Bard, Marriage of Heaven and Hell, Visions of Daughters of Albion, America and Milton. The eagle appears in the image Breach in City also.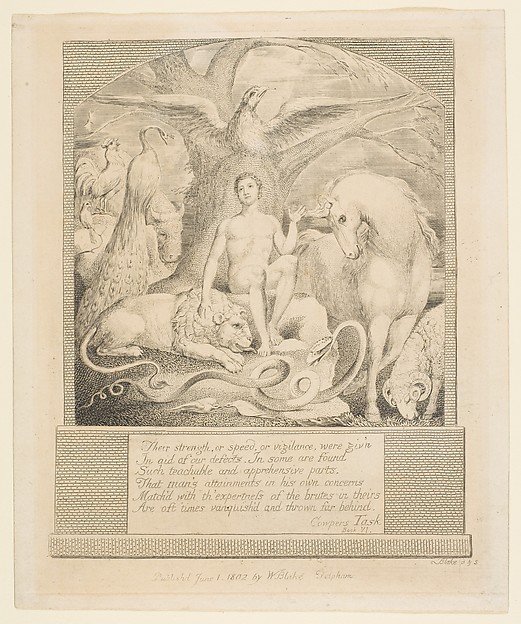 The eagle is the closest approximation to a symbol for the imagination which Blake provides. Blake's eagle whose natural proclivity is to dwell on the cliffs and soar in the skies, is familiar too with the caverns of the mind and and the battlefield strewn with corpses. To Blake it feeds on flesh as well as on the delight of sex; it is acquainted with suffering as well as joy.

Blake pictures the eagle as present with man throughout the cycle of life beginning in the cradle.

The author of Deuteronomy uses the eagle's provision for its young to symbolize the care and leadership which the Lord gives to his people. The closeness of God to those under his care, makes of God not a stranger but a friend.

---
Deuteronomy 32
[9] For the LORD's portion is his people; Jacob is the lot of his inheritance.
[10] He found him in a desert land, and in the waste howling wilderness; he led him about, he instructed him, he kept him as the apple of his eye.
[11] As an eagle stirreth up her nest, fluttereth over her young, spreadeth abroad her wings, taketh them, beareth them on her wings:
[12] So the LORD alone did lead him, and there was no strange god with him.

Four Zoas, Night VIII, Page 112, (E 384)
"O how the horrors of Eternal Death take hold on Man
His faint groans shake the caves & issue thro the desolate rocks
PAGE 113 [109]
And the Strong Eagle now with num[m]ing cold blighted of feathers
Once like the pride of the sun now flagging in cold night
Hovers with blasted wings aloft watching with Eager Eye
Till Man shall leave a corruptible body he famishd hears him groan
And now he fixes his strong talons in the pointed rock
And now he beats the heavy air with his enormous wings
Beside him lies the Lion dead & in his belly worms
Feast on his death till universal death devours all
And the pale horse seeks for the pool to lie him down & die
But finds the pools filled with serpents devouring one another
He droops his head & trembling stands & his bright eyes decay
These are the Visions of My Eyes the Visions of Ahania"

Isaiah 53
[3] He is despised and rejected of men; a man of sorrows, and acquainted with grief: and we hid as it were our faces from him; he was despised, and we esteemed him not.
[4] Surely he hath borne our griefs, and carried our sorrows: yet we did esteem him stricken, smitten of God, and afflicted.
[5] But he was wounded for our transgressions, he was bruised for our iniquities: the chastisement of our peace was upon him; and with his stripes we are healed.
.